A YOUNG chess ace from The Manchester Grammar School rubbed shoulders with some of the world's best Grand Masters at a prestigious event in London last week.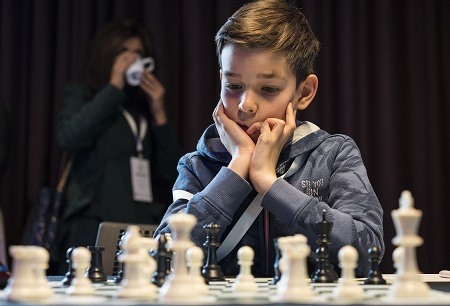 Ethan Gardiner, nine, from Wilmslow, was one of just 20 children in the country who were selected to attend a Chess Masterclass at the London Chess Classic Tour, sponsored by the 'Deep Mind' team at Google's offices in London.
In attendance were some of the best chess players in the world, including Vishy Anand (World number eight and undisputed World Champion from 2007 to 2013), Fabiano Caruana (World number three), Wesley So (World number six) and Sergey Karjakin (World number 13 and who previously challenged to be World Champion in 2016).
Young Ethan also took advantage of a fantastic opportunity to play against former World Champion Vishy, who played against four other people at the same time, and had an hour of personal coaching with Vishy afterwards.
There was also a coaching session by Wesley So and Fabiano Caruana, presented on a big screen.
At the end of the day, for a bit of fun, Vishy and a team of five, which included Ethan, played against Fabio Caruana and his team of five, where the children on each team debated and voted on a move with the Grand Masters, prompting and asking questions for them to consider as they decided.
Finally, Ethan also managed to meet Magnus Carlsen, World Champion and ranked number one in the world.
Ethan's mum Shayna said: "Ethan loves chess so this was a fantastic opportunity and learning experience for him. It was a truly inspirational event with some of the superstars of chess."