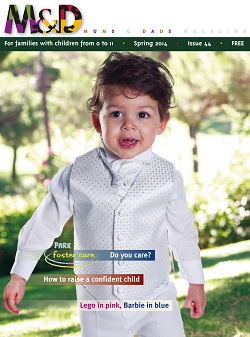 To all mothers, new and experienced, confident and uncertain, working and staying-at-home – Happy Mother's Day! It is on the 30th March this year. If you haven't decided on the entertainment programme for the day, a game suggestion in this issue of the magazine may give you an idea to start with.
Talking about mothers, how do you feel about your own mum, more often called grandma now, looking after your children? Or would you prefer professional childcare to family assistance? See what other people think in our 'Facts & Figures' section and join the discussion.
Spring is the time when a lot of schools open their doors for visitors. It takes more than one visit though to decide which school is better for your child, so start early. Remember that if you are considering grammar schools in Trafford, they have their exams in September, a few months earlier than independent schools.
All work and no play makes Jack a dull boy, as we all know. So let's talk about toys. Gender toys is the subject that draws the attention of parents, campaigners, shops and manufactures. Read an article by our columnist Dr. Sandi Mann and let us know your views. By the way, if you are shopping for Easter Eggs in pink and blue, they seem to be more difficult to find this year…