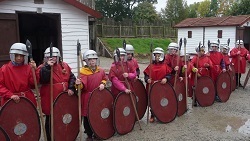 Stockport Grammar School Children from Year Four spent two days in York on a fun-packed overnight school trip.
The first day was spent at Murton Park's Danelaw Dark Age Village. Children donned traditional Roman attire before building and defending their own settlement with some pupils acting as guards while others practised weapons training and made their own oil lamps.
The next day, the group visited the Castle Museum where they explored an authentic Victorian street complete with a Ye Olde Sweet Shoppe, a toy shop and a dungeon. They also took part in a Morse Code workshop and found out more about the use of electricity during WW1.
After lunch in the Merchant Adventurers Hall, pupils visited the Jorvik Centre where they discovered how Vikings lived.
Year Six pupils enjoyed an overnight trip to London where they visited The Globe for a thrilling stage combat session, took tours of Buckingham Palace, Westminster and the Harry Potter Experience and watched a performance of Charlie and the Chocolate Factory.
Over the past term, pupils have also enjoyed trips to Treak Cliff Cavern – where they took a tour of the mines and explored stalactites, stalagmites, minerals and fossils – and Quarry Bank Mill – where they experienced life as a cotton mill worker.