Twinkle toed ballet dancer Sophie Scott has won a scholarship to appear with the touring English Youth Ballet when they perform Coppelia at the Stockport Plaza.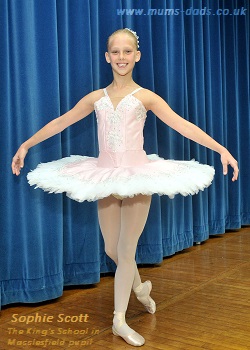 The King's Junior Division pupil was selected to perform with some of the English Youth Ballet's greatest stars when she auditioned along with 100 other students from around the Cheshire area. Sophie attends the Juliette Rawle school of Dance on Brook Street in Macclesfield where they continually encourage Sophie and her abilities as a dancer.
Sophie, who is in Year 5, said: "I love nothing more than to dance and if I could dance all day I would. It's a great honour and I am really looking forward to the challenge."
Sophie trains for around seven to eight hours a week and specialises not only in ballet but modern, theatrecraft, tap and jazz as well.
She will play a villager in the comic French, nineteenth century, classic on June 13 and June 14 and would normally have to pay for the privilege, but was given the scholarship because of her great talent.
King's Infant & Junior Division Principal Caroline Hulme McKibbin said: "It is always a real treat to see Sophie dance; she is so graceful and has the kind poise that comes from hours and hours of hard work and discipline."
Sophie, who has been dancing from the age of five, said: "I really want to be prima ballerina just like Darcy Bussell, but I know It's not going to be easy. You have to be just as fit and strong as a top athlete to succeed."