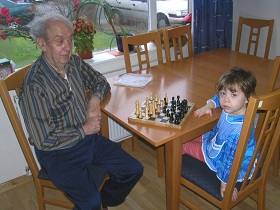 New research in the UK suggests that half of parents believe their child is more intelligent than themselves, as 48% confessed that their child would probably beat them in an IQ test.
The study, conducted by www.VoucherCodesPro.co.uk, polled 1,476 UK parents with children aged between 8 and 16 as part of on-going research into household relationships.
Respondents were initially asked 'Do you consider your child to be bright?' to which the majority of parents, 64%, said 'yes'. Those surveyed were then asked 'Is it important to you that your child grows up to be intelligent?' and 57% of those taking part said 'definitely' and 32% said that it was 'unimportant, as long as they are happy'.
The study questioned parents further, asking 'If both you and your child were to undertake the same IQ test, who do you think would have the highest score?' Respondents were told to select from a list of options, which revealed the following results:
Definitely me -17%
Probably me – 35%
Probably my child – 20%
Definitely my child – 28%
Parents who thought their child's IQ is 'definitely' or 'probably' higher than theirs were asked to explain. 53% thought that their child 'would be better at tests than them'. 24% simply answered that they'd 'forgotten quite a lot since leaving school'.
According to the survey, mothers were the most likely to believe their child to be more intelligent than themselves, making up 61% of all respondents that said their child would 'probably' or 'definitely' beat them in an IQ test. Fathers made up 39% of this group.
George Charles of www.VoucherCodesPro.co.uk made the following comment:
"It seems that a good proportion of parents believe their children are more intelligent than themselves. Is this a case of doe-eyed parents seeing their child as perfect, or is it really the case?" He continued, "regardless of intelligence, parents should still be proud of their children. Who else can claim responsibility for providing such wonderful genes? It's a win-win situation!"