An experience to treasure
Fear of childbirth is common, but the normal anxiety many women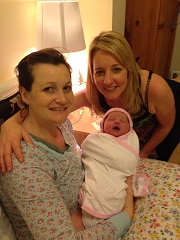 experience is nothing in comparison to women who have been traumatized by a previous birth experience. Just the thought of having another child can feel terrifying to a mum and dad who have experienced a traumatic birth.
"I didn't think I could face going through birth again, but I so desperately wanted another child," remembers Clare. "Finding Tracey from 'Pure Birth' was the best thing I have ever done in my life. She helped us understand what happened at our first birth and taught us breathing and relaxation techniques. We had Tracey support us as a birth doula and it was amazing."
M&D asked Tracey Sutton, an experienced doula and hypnobirthing instructor: what is a doula and how can hypnobirthing help anxious parents?
Tracey explains, "A doula is a professional who provides emotional, informational, physical, and practical support before, during and after birth. Through no fault of their own midwives are under strain to provide the care they so want to provide to couples. The truth is that you may never have met the midwife who attends your birth until you are in labour. This leads to fear which can significantly affect your birth experience. Research says having a doula gives a 50% reduction of having a caesarean, 40% less likely to need a drip to speed up or induce birth, 30% less forceps delivery/episiotomy needed and 30% less likely of needing pain relief.
It's important not to forget, dads can also be nervous and anxious about the birth. Having a doula lessens the stress for the dad too so he can be calm and confident and help mum-to-be to concentrate on the techniques. The bond between the mum and dad is not only left intact — it is strengthened — because of the help and support of the doula."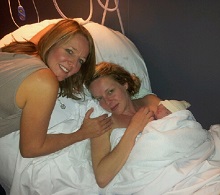 Tracey is a strong advocate of hypnobirthing. She's been teaching it for ten years and currently runs Wise Hippo Birthing classes within the birth centre at Wythenshawe Hospital. She says, "Hypnobirthing is now much better known. I liaise closely with midwives who welcome couples with the knowledge and techniques of hypnobirthing. During our classes we learn how to release fears, how to avoid intervention, how your birth partner can actually help, support and protect. Whether it's your first baby or a baby after a traumatic first birth it's amazing how hypnobirthing can change your perception of birth,"
"Birth need not be traumatic, ever, no matter what kind of birth you have," Tracey believes. "Birth should be a special time and with excellent preparation and techniques coupled with support everyone is entitled to a positive experience."
Emma says, "It was amazing to have another woman there, who knew us well. Tracey was someone who we grew to respect and trust during our pregnancy. She was a constant, calming presence, she helped us achieve a home birth after a traumatic first hospital birth and will always have a special place in our hearts."