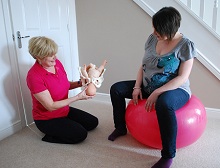 Childbirth is a normal physiological event, but there are a number of factors that can both hinder and help this process. Attending antenatal classes is a great opportunity to fully understand and learn the practical things that can have a positive impact. In the UK it is recommended that all pregnant women having their first baby should attend antenatal classes. There are a variety of classes available, all of which share a common aim to provide accurate, up-to-date information along with the practical skills to prepare for labour, birth and early parenthood.
NHS Classes – tend to be larger groups, generally facilitated by midwives, usually practically based, cover essentials, useful for those who want basic information at no cost.
NCT (National Childbirth Trust) – smaller groups, organised by NCT trained teachers, cover practical and factual information, encourage social activities, useful for couples who want more in-depth information and the opportunity to make life time friendships, costs vary according to classes booked, but can be free based on individual need.
Private Session – one-to-one or very small groups, sessions offered by both midwives and antenatal teachers, classes cover in-depth practical information that is tailored to meet individual needs, couples encouraged to have their own agenda, flexible times by arrangement, excellent opportunity for those who want a more personal service in the comfort of their own home, often combined with complementary therapies, costs vary according to the package booked.
Virtual Classes – on line classes, suitable for couples who don't want to attend face to face sessions but want information, usually delivered by video with the opportunity to have question and answer sessions, costs vary.
As an experienced practising midwife, I know that when women and their birth partners have attended antenatal classes, they feel more in control, they are better able to make informed choices about care and generally have a more fulfilling positive birth experience, which in turn has a positive impact on parenthood.
If you are interested in private sessions or want more information, Carole, who runs the Optimum Birthing company offering Antenatal Classes and Complementary Therapy Sessions, will be happy to help. Please contact her directly on 0791 776 8895 or visit http://www.optimumbirthing.co.uk/.