Four Pancakes Cooked in a Microwave Simultaneously! Video & Recipe.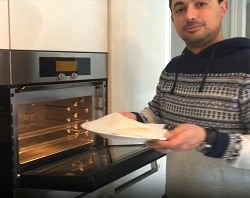 Theo Michaels, author of 'Microwave Mug Meals' and 'Microwave Mug Soups' (Lorenz Books, 2016 and 2017) and TV chef as seen on the likes of ITV's This Morning and Masterchef, has created an easy fix for families who want to create a stack of pancakes quickly for today's Pancake Day, February 13th.
Theo says: "I've been playing about with microwave pancakes for a while. The brief was simple – how can I make pancakes quicker than my kids can eat them. Simple as that.
"I've had some success with microwave cooking (you can find some recipes from my Microwave Mug Meals and Microwave Mug Soups cookbooks here) I thought it would be really cool if you could make big fluffy pancakes in the microwave but super-fast and importantly – at the same time. That's the reason, cooking them at the same time.
"Well, I did.
"I'm quite chuffed about this actually. I've played around with the batter, different ways of microwave cooking pancakes at the same time and finally got it sussed."
Watch Theo cooking the super-fast pancake stack:

Ingredients

1 cup flour
1 tsp sugar
1 tsp baking powder
2 tbsp melted butter
4 tbsp oil
1 egg
3/4 cup of milk

Directions
Add all the dry ingredients to a bowl and mix, followed by all the wet ingredients and whisk (you want a thick consistency – see video).

Lay a sheet of greaseproof baking paper on a plate (must be greaseproof otherwise the pancakes will stick) then add a heaped spoonful of the batter in the middle of the paper.

Lay another sheet of greaseproof paper on top and then add another spoonful of batter on top, above the first spoonful.

Repeat until you have laid four spoonfuls of batter and finally top with a sheet of greaseproof paper.

Microwave for 2.5 minutes – done!

(I use a 800-850watt microwave).

Peel the pancakes off and dress with butter and maple syrup!