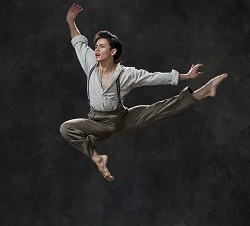 We like extremes. Remember William Golding's 'Lord of the Flies'? We have always been fascinated by what happens to people when they are trapped, when they have nothing left but each other and no clear way out. Do they join together, or do they tear each other apart? Do they stand and fight or do they let things be and hope for the best? It is these questions which make up the narrative of choreographer, Barak Marshall's, new work for acclaimed contemporary dance company Rambert.
'The Castaways' is a perfect piece of theatre. It combines all the elements that work best on stage to tell the tale. A story of humanity and what it means to be people. Dance, drama and music are flawlessly interlinked to convey this story to the audience. The dance technique as ever is faultless and is made to look deceptively light and easy by the Rambert dancers. There are a lot of dialogues exquisitely carried out by the performers often right in the middle of a dance. The music deserves a mention in itself. Each peace is full of emotional electricity and is arranged to take the audience on a journey which takes in different countries from America to Soviet Russia, different languages from Yiddish to Spanish, and different, dramatically changing, moods.
'The Castaways' are 12 very different characters, satirically introduced by the emcee, and then brought alive to the audience through both dance and dialogue. The warmonger, the three mean girls, the dreamer, the Latin lovers, the jilted bride, the greedy beggar and the naïve young couple each have their own character, come from their own culture, and have their own story to tell, but by the end they are all just people fighting to retain their humanity. In contrast, however, to many works on the subject, such as 'Lord of the Flies', Barak Marshall tries to "offer hope in [his] work", so that far from leaving the theatre feeling as though you never wanted to see people again, you leave with the feeling that maybe, just maybe, everything will somehow be all right.
Rambert dancers rehearsing The Castaways.
The world premiere of 'The Castaways' was at The Lowry, Salford on 9th Oct
Later showing at
The Lowry, Salford – until 11 Oct 2013
Norwich Theatre Royal – 17 Oct 2013 – 18 Oct 2013
Sadler's Wells, London – 22 Oct 2013 – 26 Oct 2013
Theatre Royal, Bath – 31 Oct 2013 – 2 Nov 2013
Theatre Royal, Plymouth – 27 Nov 2013 – 29 Nov 2013
His Majesty's Theatre, Aberdeen – 12 Feb 2014 – 14 Feb 2014
Theatre Royal Brighton – 26 Feb 2014 – 1 Mar 2014
Clwyd Theatr Cymru, Mold – 12 Mar 2014 – 15 Mar 2014