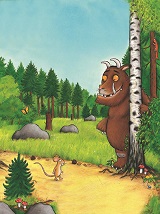 The Gruffalo is a modern-day family favourite. Written by Julia Donaldson and illustrated by Axel Scheffler it was voted nation's number one bedtime story by BBC Radio 2 listeners.
We love reading The Gruffalo. The tale of a mouse on the hunt for nuts in the deep, dark wood. The mouse encounters a fox, an owl and a snake and in order to escape their fearsome clutches tells a tall story about a terrifying beast…the Gruffalo.
The Gruffalo play (musical stage adaptation by Tall Stories) is simple but so much fun. It features a cast of three and lasts for an hour, which is long enough for the audience largely made up of the under 5's and their parents.
I took my three year old who was rapt throughout. The cast were brilliant, mischievous and seemed to be genuinely enjoying themselves. There were a few nice jokes for the parents, and enough audience participation to have my little one bouncing in his seat and joining in with gusto.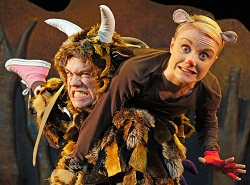 The costumes were eye-catching, especially the glamorous, glittery, salsa dancing snake. The fox was dapper and the owl was a stuffy fighter-pilot and had some of the best lines. The Gruffalo was as big and fearsome as he should be, complete with purple prickles all over his back. He wasn't too frightening a sight, my little one turned to me with a big smile and said "he's scary" which I interpreted as just the right kind of scary for a three year old.
The mouse was as scared, brave and as cheeky as she should be. With a dose of luck and a smattering of chutzpah, the mouse triumphs, much to the delight of the audience.
It was a simple, but visual feast for a small child, and there's plenty to keep the grown ups entertained too. We all had a thoroughly lovely time and rushed home to read the story all over again.
The Gruffalo is at The Lowry until Sunday 20th April and is a brilliant Easter treat for families.