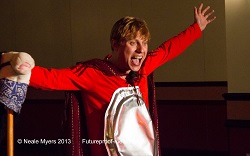 The Library Theatre Company's annual re:play Festival 2014 #replay2014 at The Lowry in Salford features the best fringe theatre for a 'second chance to see' every January.
For the first time ever, the festival features a show for all the family, Billy, the Monster, and Me!, at The Lowry Studio on Sunday 26 January at 11am and 2pm, and Monday 27 January at 2pm.
When a monster appears in Billy's bedroom on the very day that his family are just too busy to play, how can Team Billy save his family from meeting a very sticky end? This interactive show is suitable for audiences aged 3+.
To win a set of family tickets (two adults, two children) worth £22, simply answer the question and send your answer and details through the form below.
Q: Where does the monster appear:
1. Billy's bedroom
2. Billy's classroom
3. Billy's bathroom
The tickets can be used on either Sun 26 Jan 11am or 2pm, or Mon 27 Jan at 2pm (subject to availability; extra children's tickets can be purchased if necessary at £3 each).
Closing date: Wednesday, 16th of January.