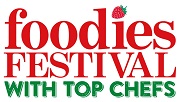 Foodies Festival, the UK's biggest celebration of food and drink, brings a feast of foodie fun to the North West at Tatton Park this year with 2016 MasterChef Winner Jane on 15th to 17th July.
MasterChef winner Jane Devonshire cooking live in the Chefs Theatre
Top local chefs Aiden Byrne and Mary Ellen McTague share their favourite recipes and tips
Focus on Brazilian street food on the Street Food Avenue
More award-winning producers than ever before
New Vintage Tea Tent with Afternoon Tea
Champagne, wine and craft beer masterclasses
Burlesque Baker Charlotte White in the Cake & Bake Theatre
New Bug-Eating competition and the famous Chilli-Eating Challenge
New 1920s themed VIP Tent with grand piano and Mirror Bar
Local bands competing to win the Unsigned Music Awards
Giant Pimm's Teapot and Mojito Ship
North West food-lovers can look forward to another taste-bud-tickling weekend this summer, as Foodies Festival returns to Tatton Park in Cheshire, serving up a lip-smacking feast 15th to 17th July.
This year's festival sees 2016 MasterChef winner Jane Devonshire and the region's culinary masters cooking live in the Aga Rangemaster Chefs Theatre, showcasing their skills, sharing insight into 2016's food trends and answering questions from the audience.
Aga Rangemaster Chefs Theatre.
Chefs confirmed include:
2016 MasterChef winner Jane Devonshire
Aiden Byrne – The Church Green and BBC's Restaurant Wars
Mary Ellen McTague – Aumbry and BBC's Great British Menu
Ed Baines – Head chef at Randall & Aubin
Kevin Clark – The Mere Golf & Spa
Norman Musa – Ning & Author of Amazing Malaysian
David Mooney – New Moon Pubs
Pete Hewitt – MasterChef Finalist 2015
Ping Coombes – MasterChef Winner 2014
Tony Rodd – MasterChef Finalist 2015
Lisa & Helen Tse – Sweet Mandarin
Yang Sing Culinary Team – Yang Sing
Katy Beskow – Little Miss Meat Free
Drinks Theatre
Expert sommeliers Neil Phillips and Charles Metcalfe host champagne and wine masterclasses, and beer connoisseur and writer Melissa Cole offers entertaining craft beer tutorials with hourly sessions in the Drinks Theatre.
Visitors can test their taste buds with blindfolded whisky challenges, where they will have to taste and smell to try and identify ingredients and country of origin. These classes are also a great opportunity for novices to learn about whisky and its history.
Street Food Avenue
A feast of international flavours and delicacies are served on the Street Food Avenue. Japanese, Thai, Malaysian, Argentinian, Turkish, Indian, Korean, Mexican, French and African are just some of the cuisines on offer and can be enjoyed in the every growing Feasting Tent, ensuring hunger is banished and tummies are full.
There's a special focus on Brazilian street food this year to celebrate the Olympic host's cuisine, including traditional Brazilian BBQ and Rio's favourite dish Feijoada made from black beans, salted pork, trimmings, smoked sausage and jerk beef, which is cooked in a traditional clay pot. Brazil's national cocktail Caipirinha, a mix of lime, sugar and Cachaça (made from sugarcane juice with an ABV of 48%), and Brazilian coffees will be available.
Artisan Producers Market
A glittering array of Great Taste Award winners are available to shop and sample from this year, each being hailed as a producer of 'Exquisite, Outstanding and Simply Delicious' food and drink – a fantastic opportunity for visitors to meet artisan producers from the local area and across the country, learn their story and stock up on award winning produce. With over 120 stalls to peruse at each festival, selling everything from Seaweed Seasoning to Champagne Infused Fudge, visitors will be spoilt for choice for what to eat at the festival and take home to enjoy.
New Vintage Tea Room and Cake, Bake & Tasting Theatre
Afternoon tea can be enjoyed in the beautifully decorated Vintage Tea Room, where teas, handmade cakes and scones with clotted cream and jam are served on china from a tea trolley by vintage styled tea ladies and gentlemen.
Baking extraordinaire Charlotte White, master chocolatier Fiona Sciolti and top local cake-makers work their baking wizardry on the Cake & Bake stage, inspiring visitors to reach for their whips and spatulas at home and create show-stopping cakes and delicious summer bakes. A neighbouring Chocolate, Cake and Bake Village sells freshly baked breads, sponges, tarts, jellies and trifles to enjoy with a bubble tea or fresh juice.
Into the Jungle
Festival goers can munch their way into the depths of the jungle this summer with a trip to the Vietnamese Street Food stand, where those with a taste for the exotic can indulge in insects, including grasshoppers, caterpillars, mealworms, beetles, scorpions, locus and ants. These tasty critters will also be sold in powder and flour form – a high source of protein – to bake, season and cook with.
For those brave enough, there's a daily Bush Tucker Trial on the Challenge Stage, where visitors compete against one another by eating jungle insects, from small ants to large juicy grubs, with the contestant eating the biggest and the most being crowned champion.
Childrens Cookery School
The Olympic theme continues into the Childrens Cookery School, where little foodies can decorate their very own gold medal with coloured icing, glitter and edible ribbon. Pizza and cupcake making classes also allow kids to explore their taste buds and learn basic cookery skills to practice at home.
Chilli-Eating Challenge
The famous Chilli-Eating Challenge continues in 2016, inviting fans of spice to beat an eye-watering 16 million scoville record set by Shahina Waseem last year. Participants start at the low end of the chilli spectrum by eating bell peppers, but things quickly get a lot hotter with Habanero, Scotch and Carolina Reaper (world's hottest chilli) chillies being added to the menu. Those still standing are then inflicted to pure chilli extract, increasing in strength, until a winner is crowned.
Live Music and Pop-Up Bars
After a day of feasting and fun, visitors can picnic on the grass with friends and soak in the atmosphere with live music from award-winning local bands at the Unsigned Music Awards Stage and a glass of bubbly or refreshing cocktail from the Giant Pimm's Teapot or Mojito Ship.
Competition Time!
This year Mums&Dads has 3 family tickets to give away to give away to our readers (children under 12 go free, over 12 require adult ticket). To try your luck to win one of the family tickets enter through the widget or link below to enter our competition. Simply answer the question or/and choose any other options.
You could use all the possible ways to enter, it will increase your chance of winning!
Foodies Festival 2016 at Tatton Park