McLaren expects the best on and off the track and its online McLaren store is no different.  Here you will find a collection of premium products that are as exclusive as they are diverse.
Fasten your seatbelt, check your mirrors and then race off to bed in style in these cute TOONED pyjamas! This fun shorties set features the main characters from the new animation series. 100% cotton and machine washable.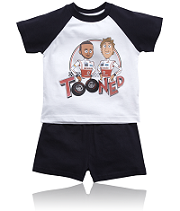 For more information visit www.mclarenstore.com
To enter the competition, please let us know whether TOONED pyjamas are made from wool or cotton?
Good luck!
Closing date: Thursday, 31st January 2013