Get TOONED in the McLaren store. Try and keep out of trouble (or try and keep up) with Lewis and Jenson as Professor M sets the boys a number of tests and trials in and around the McLaren Technology Centre. Plus shop the TOONED Collection, offering DVDs, Pyjamas, Stickers and much more  – perfect for kids and the kid in all of us!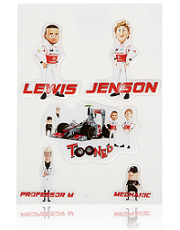 Show your love for TOONED with this fun A5 3D sticker sheet featuring all the main characters. Stick on school books, pencil cases, your bedroom door, if parents allow, and wherever else you like!
For more information visit www.mclarenstore.com
To enter the competition, please answer the following question:
What are the names of two racers, depicted on the stickers?
Closing date: Thursday, 31st January 2013