Multi award winning children's brand, My Wonder, have got the perfect way to get the little ones enjoying stories from day one, with their Goldilocks story filler, allowing children to enjoy the much loved tale time and time again!
This classic tale of Goldilocks and the Three Bears is brought to life with this gorgeous 12 piece set of material squares for the original Wondercube. It is also accompanied with the printed story so parents can read while their children follow along with the sequenced Wonder squares. The simplicity of the Wondercube is what makes it so great – a cube packed with textile squares that children can pull out one by one – just like they do with the box of tissues or baby wipes! And with the story telling set the cube will be even more engaging, and is ideal for the older children too.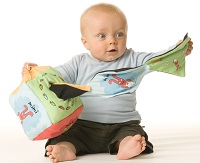 Although the Wondercube is based upon a simple idea, it allows the little ones to use a variety of skills and encourages them to explore and also helps stimulate babies' senses and develop their fine motor skills. Each square has a different feel and sound to investigate and the pieces can be pulled apart, stuck back together and rearranged in any order. What's even better is the Wondercube is a real investment for parents as it has been designed to grow with the child. With a huge choice of innovative add- on fillings – including numbers, letters, animals and storybooks – the adaptability and versatility of this simple cube is infinite.
The classic ethically produced Wondercube has been made from organic jersey cotton and is eco-friendly. This wonderful box of tricks is educational and provides hours of fun and is a toy that will endure and amuse for years. As well as the soft Wondercube, a solid wooden version is also available which is aimed at older children between the ages of 2-6.
The much loved brand is still celebrating their recent success, as 2012 was a truly wonderful year. The Wondercube was selected in the national Slow Toy Awards and went on sale in Selfridges! This was a fantastic accolade for the brand and created a platform to show parents that the Wondercube provides an all round toy that caters for dexterity, learning and a lot of fun!
It is safe to say that there is no 'wonder' why the Wondercube is so popular with the little ones!
For your chance to win this amazing educational toy, please, tell us what is the name of the fairy tale printed on the 12 piece set of the Wondercube story filler?
Closing date: Monday, 11th March 2013
Please send your entry with clearly marked name, address and telephone number to M&D Magazine, Didsbury, Manchester, M20 2SX.