RECIPE
SciTech Tatin
(an upside-down delight)
You will need….
Children (fresh not frozen)
An ultrasound scanner
A Dental Chair
A Sound Cannon
Some rolled up newspapers
and a bath of custard
For the SciTech
Combine these ingredients and many more, with imagination, enthusiasm and experience for a week to make a rich and lasting experience that children will adore and their parents will envy.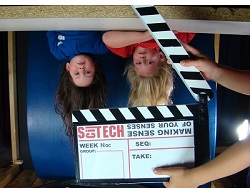 For The Tatin
The true magic of a tart tatin is realised when it is inverted. The Tatin sisters demonstrated this after a happy accident with caramelised apples. Since then other talents have produced some amazing variations. The SciTech Tatin begins with a room that has a table and chairs. The room is turned upside down and inverted children are put into it. Now, with the aid of an upside down video camera, the magic of illusion and perception is realised!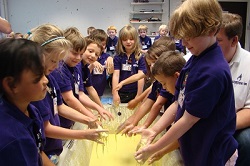 SciTech has many such recipes. This one will be used in this year's 'Banquet of Science' for children, SciTech:13. Perhaps this author has been watching too much 'Masterchef'!
SciTech is a truly amazing experience for children. Now in its 22nd year of operation, SciTech seems to enjoy an unrivalled reputation for inspiring the next generation of scientists.
Philip Rose, whose concept is the embodiment of SciTech, talks about 'reaching potential'…
"We call it a 'Ping'. It's that special moment when a child suddenly understands how something works and how it links to other things. The whole experience is expressed in that look of joy and amazement!
For parents and teachers the Ping is a signal that a child is reaching their full potential. As a parent I, (perhaps secretly), resented my children growing up – I wanted to them to stay as children. This disappointment was more than offset by witnessing and being part of, the many pings that marked their development and so reaching their own potential."
It tune with the culinary theme, M&D asked Philip what his recipe for success is.
"I think we need to understand what we mean by 'success'. For us it is not how many places we can sell on our SciTech courses – even without advertising, we are always fully booked by the time we run them. It is more to do with how effective and enjoyable the experience is for the children.
For me, one of the defining moments of success, a time when you are inspired to punch the air and exclaim 'Yes!', came when I watched the BBC Breakfast Programme to see a 17-year-old girl being interviewed to discover why, against the popular trend, she was taking science A-levels and intending to pursue a career in science. She explained that she had always loved 'doing' science ever since she was a 6-year-old when she first came to SciTech. She is not my daughter but I couldn't have been more proud if she had been!
As for the recipe for this success, I think that as a dyslexic I have the imagination and understanding to create these stimulating learning experiences. We have lots of recipes but common to them all is Science, Children and Enthusiasm!"
This year SciTech's Science Banquet will offer
A day exploring SOUND; hence the ultrasound scanner and the Sound Cannon
The DENTISTRY day is where the children will become dentists for a day in a specially set up dental surgery with its chair and intra-oral camera.
The PERCEPTION & ILLUSION day is where the upside-down room and so many more illusions are explored. The children will have to sign a special secrecy agreement before they are introduced to some of the science behind professional stage magic!
The rolled up newspapers are central supports for the STRUCTURES day. As you read this SciTech are collecting newspapers and rolling them into special struts that the children will use to build amazing constructions. Putting into action what they will have learned about what works and what doesn't, when you build working structures like chairs and bridges.
Day five is a TECHNOLOGY WORKSHOP, which is always packed with a variety of experiments for the children to do and things to make. SciTech staff changes this experiments all the time but one thing the children will not allow them to change is the 'jumping on the custard' bath!
The summer course is for children aged from 5 to 13. It is run in Altrincham. The 1st week begins on 29th July until 2nd August and is repeated on the 5th until the 8th August.
If you are interested in finding out more about the course contact SciTech as soon as possible since these courses fill up very quickly. Mini-SciTech course for 5 and 6 year-olds is particularly popular.
You can visit SciTech's website, www.SciTech.co.uk or phone on 0161- 903 9133 during office hours, at evenings and weekends.