The way we live in our homes has changed. You may like your kitchen, but do you really like cooking on your own while the whole family is scattered around the house doing their own things? Do you regularly sit down as a family to eat in a dining room? And maybe after dinner you move into your lounge to watch television or read a book? Well, maybe if you are lucky. More often though, busy working parents juggle cooking the kids' dinner with helping them to do their homework and conjuring up a plan for that weekend's dinner party. The television is on in the background and the older child is surfing the net. Sound familiar? We are, we have to be, multi-functional for better or for worse. It's a fact of modern life. So modern families need a new multi-functional space arrangement for their homes. Hence, fashionable open plan design.
M&D asked Lucy Burt of Nest Interior Design in Sale, Cheshire for her opinion
Our primary client type is families, people looking to re-configure their living spaces to meet their changing needs. Whether a newly-purchased house or an existing home, our biggest demand now is to design a new multi-functional space. People are  looking to divide the ground floor of their home into the traditional lounge, dining room and kitchen less and less often. Ideally, one room would now incorporate all three of these areas: the Family Room.
the list….
Let's take, for example, a family of four with two children, one school age and one pre-schooler. This family is looking to renovate their existing home to provide them with a new large kitchen-diner, they are willing to 'lose' the current dining room in order to maximise the kitchen space. We start talking to them about the requirements for this new kitchen space and the list goes something like this: food preparation, cooking, eating, entertaining, working, homework, children playing, storage (kitchen storage but also toys, stationery, craft activities, books). These are 'must-haves', ideally there would also be space to relax, read the paper, read with the children, have a glass of wine/cuppa with a friend. This space needs to work hard!
the floor plan….
Kitchens are generally high-spend areas. People are willing to invest significantly more in this area of the house for three main reasons (1) you spend so much time in it (2) it needs to offer so much (3) it needs to last and withstand daily wear and tear. It's important to really plan this area well, think hard about every element and get it right first time. The first thing we look at is the physical floor space, planning the layout is key here and a scale drawing is invaluable for 'playing around' with the space available. People often hanker after an island in their kitchen but in reality these take up a great deal of floor space and only work well in larger rooms. Think about the different 'zones' required e.g cooking/eating/relaxing. A blank floor plan of just four walls can look vast, add in a few banks of units, a dining table and a sofa and it could start to feel cramped.
the kitchen….
Next think about how much storage space you require. Tot up the cupboards you currently have and ensure these are factored into your new kitchen design. Appliances will form a large percentage of your spend. Induction hobs, combi-ovens, Quooker taps, it can be baffling so ensure you know what your requirements are. Worksurfaces are another high spend area and with good reason. Prepping, cooking, eating, and wiping, 365 days a year, they need to be durable. Your worksurface also plays a huge visual part in your kitchen. Along with the more traditional stone and wood finishes, Corian, quartz and even laminate are all big players in this market and offer an incredible range of colours and finishes to consider.
Don't forget to consider the difference taps and handles can make. If you are after that seamless look then a 'touch open', handle-less style of unit could be the option for you.
the eating area….
If you have the space for an island then these can be great. Hugely sociable, your family or guests can sit at the island while food is prepared. Also a good place for homework, pop the peas on whilst helping with sums, et Voila, multi-tasking! If you prefer a dining table, this option allows you to 'warm' up a space. A modern kitchen with a warm wood table gives a room real personality; the trend for mixing up chairs continues and does offer a quirky and 'lived-in' look to what can often be just a functional space.
the relaxing area….
Similarly, if you have room for a sofa or couple of armchairs then this creates a real 'Family Room' environment. A comfy sofa, cushions and side table in one area of the room helps to zone it and divide the space up into different areas for different activities. Often people who succeed in creating these rooms to good effect rarely use their lounge, finding this room truly is the hub of the house and somewhere they really enjoy spending time.
In terms of the other bits and pieces which you might want in this room, consider a sideboard/chest of drawers/dresser to add character and provide useful storage. Antiques markets, eBay etc offer a great route to find salvage items which can be up-cycled.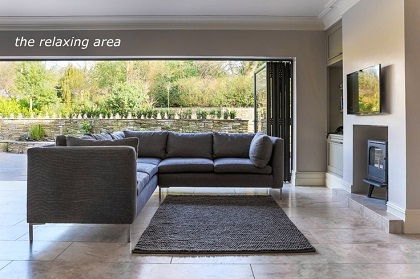 the finishing touches….
Paint, blinds, curtains and lighting. Consider the room as a whole and make sure it is all 'pulled together'. Adding colour and/or pattern at the window or via a rug can really 'lift' the room and make it feel more homely. Kitchens often feature spotlights for practical reasons but a pendant light on a dimmer over the table or island allows for more relaxed meals and adds a feature. Similarly, a table or floor lamp by a sofa or chair offers a welcoming corner to curl up with a book.
we can help….
So, lots to consider in this space but really worth it as, if you get it right, this will be the heart of the home where friends and family of all ages gather to spend time together.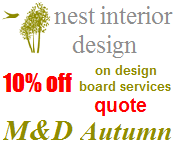 nest interior design offers a friendly and informal service from one room to a full-house project, our one hour initial consultation is free of charge. We would be delighted to offer M&D readers a 10% discount on design board services, please just quote M&D Autumn when contacting us.
www.nestinteriordesign.co.uk, enquiries@nestinteriordesign.co.uk, 07867 802970