The trend for working from home continues. Home workers made up almost 14% of all those in work in the UK during the first quarter of 2014, the rate is the highest since comparable records began in 1998
*
. In line with this,
people are looking for smarter ways of creating a workspace within their home
.
Below are a few of the questions clients of Nest Interior Design have asked on recent projects.
Q: I am going to be working from home but don't have any available rooms to turn into an office. What are my options?
A: Once your children have started school or nursery it is a great time to set up a business that fits around family life. Working for yourself is both flexible and immensely satisfying. Alternatively you may be lucky enough to have employers that will let you work from home. However, even if you are fortunate enough to have a spare room the likelihood is that this has now been somehow absorbed into family life (playroom, guest room, laundry room?!)
There is some beautiful and stylish furniture out there that enables you to have your 'office' in your lounge, kitchen or even hallway without anyone ever knowing. At nest we just love the 'Fonteyn desk console' and 'Contrast console' at made.com. This gorgeous furniture provides a practical workstation and when not in use can be closed up and admired!

Q: I need a new desk that will fit into my spare room. I don't want it to look like office furniture. What are my options?
A: It is all too easy to head to Ikea and come home with an office desk that does the job but sticks out like a sore thumb in its designated room. Fear not however as there are some brilliant desks out there that will enhance any living space whilst enabling you to work comfortably from home.
At nest we are taken with the Balthazar ladder desk. It has loads of storage and is just the epitome of form meeting style. Or, if you are looking for something a little more elegant then you would struggle to do better than the Betsy writing desk. Reminiscent of the 1920's this will add glamour and style to any room in your house but would sit particularly well in the corner of a bedroom.

Q: I love the idea of having an office at home but have a small house with a big garden, any ideas?
A: Many people toy with the idea of converting their basement or loft to provide them with a home office. An alternative and affordable option if you do have a good-sized or awkward shaped garden is an outdoor office. These have come a long way since the days when they resembled sheds or outhouses. Today you can opt for a contemporary garden studio which solves your office space problems, looks fantastic and is even eco-friendly.
For clever design and a real attention to detail, take a look at the garden pods available from Pod Space. Their Micro Pod is so compact at only 2.5 x 2.0m it doesn't even require planning permission.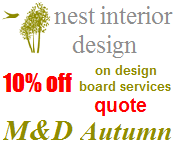 nest interior design offer a friendly and informal service from one room to a full-house project, a one hour initial consultation is free of charge and obligation. We would be delighted to offer M&D readers a 10% discount on design board services, please just quote M&D Autumn when contacting us.
www.nestinteriordesign.co.uk
enquiries@nestinteriordesign.co.uk
0161 414 0032
1. Characteristics of Home Workers, 2014
2. Homeworking hits record levels, says ONS The Guardian, June 4th 2014
3. Proportion of people working from home reaches record high The Guardian, June 4th 2014