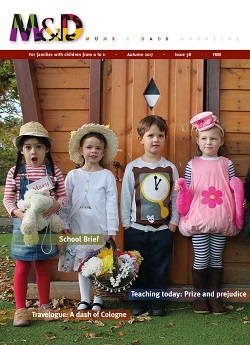 As the dreamy days of summer fade away, it's time for many of us to return to reality. For better or worse, routine is once again imposed on days that used to be free of restriction and schedule, and our thoughts return to practicalities and procedures.
For some, this may include choosing a school, in which case our handy guide to open days and school news, published in the magazine and regularly updated on the website, may be of assistance. For others, this may mean getting to grips with a change in policy regarding nursery care, an issue addressed in the article "30 Hours Free Childcare. A Parent's guide to the new government scheme." And for those of you who just can't bear to let go of that relaxed summer feeling, we have another story from our travel columnist Paul Wojnicki, which we think might get you dreaming about your next break from everyday life!
So as we all wave goodbye to lazier days, let's not be too despondent – after all, there's something to be said for the security and familiarity of the routine.