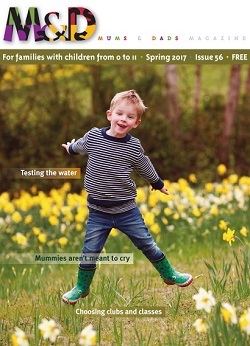 The days are getting longer, the weather is getting better (we hope) – the time of daffodils and chocolates is nearly upon us!
Let yourself be spoiled this Mother's day and don't worry too much about spoiling your children with Easter eggs and bunnies. And when you're done indulging, we have plenty of suggestions on burning those recently gained calories – just look at our 'Activities' section and the 'Events Watch'. Not sure how to choose among so many activities for kids in your area? There is some advice in Mike Stevenson's article "Choosing clubs and classes".
Walking and running through daffodils may prove more than just fun for our readers this year. At a farm near Northwich, local photographer Helen Rae will photograph children in acres of golden daffodil fields to raise much-needed funds for Macmillan Cancer Support. If you'd like to take part in this event, read more in our 'Charity Corner' section.
In the 'Travel' section you can learn about cruising with children – and yes, there is still time to book a cruise for your summer holiday! And for those of you who are well organised and make your plans well in advance, there is always next year to start thinking about.