ASICS Greater Manchester Marathon comes to Trafford this Sunday 6th April with the race starting at 09:00. The ASICS Greater Manchester Marathon is not only renowned for having the flattest marathon route in the UK and one of the fastest in the world, but also for being 'the friendliest' marathon with huge crowd and community support. Organisers are promising a free festival with a carnival atmosphere around the course, to cheer on the runners and entertain the spectators.
Runners will also be able to vote for the 'Best Entertainment' and 'Best Supporting Community' after the race, with a £500 cheque awarded to the winning groups by the organisers.
Key entertainment details and locations include:
Gorse Hill Studios at Gorse Hill, 8km & 41 km
Sale brass band at Sale Waterside, 12 km
Trinity Methodist Choir at Sale Moor, 13 km
The Brook DJ at Brooklands (The Brook), 14 km & 26 km
Trafford Youth Orchestra at Brooklands (St John the Divine), 15km & 23 km
Frank Sidebottom / Frank's Army and the Rock Choir at Timperley Village, 16 km & 23 km
Altrincham Children's Choir, Loose Change and Rock Choir at Altrincham, 21 km
Junior ice hockey team jelly baby stall at Altrincham
Tomahawks, Firsway School, Friends of Dainewell Park, The Manor House and Café 56 / Life Centre at Sale West, 28km – 30 km
Greater Manchester Fire Service at Carrington, 31 km
Trafford Youth Orchestra at Flixton, 33 km
TSG Cheer: UA Manchester on the finish straight, 42 km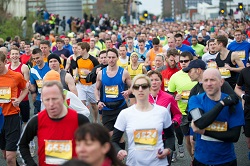 Teams from title sponsor ASICS will be in action at key points around the marathon route, handing out clappers to supporters, cheering on the athletes and encouraging spectators to get involved.
A lot of activity will also be at the handover points of the Team Relays. The half way point of the race, which is also the handover point of the Half/Half Relay runners, is at Stamford Road in Altrincham and will see Capital FM as well as the ASICS arch and a team from ASICS providing entertainment and motivational support to the runners. The handover points for participants of the 4 Leg Relay will be at Sale FC, Timperley Sports Club and Manor House Public House in Sale West.
Some of the official charities will have cheering stations en route, including Royal Manchester Children's Hospital (Brooklands Road), The Christie (A56 southbound nr. Edge Lane and on Kingsway opposite Stretford Mall), British Red Cross (A56/Avondale Road junction, Gorse Hill), Cancer Research UK (Chester Rd between Portland Rd and Wesley Street), Macmillan Cancer Support (Marsland Road), CITC (Sale tram stop / between Stamford Place and Wardle Road), Bliss (A56 nr Radnor St & Sydney St) and Sustrans (Chester Road – Stretford Leisure Ctr).
Race Director Simon Hill commented: "The ASICS Greater Manchester Marathon sees huge community support with thousands of supporters lining the streets of Greater Manchester, and we are proud to be referred to as the friendliest marathon. We are working with a range of community groups and clubs, and the entertainment on race day will be exceptional. There will be a unique festival atmosphere for both runners and spectators to soak up and be a part of, making it a great day out for supporters and residents."
The ASICS Greater Manchester Marathon starts and finishes at Manchester United Football Club, with the race village located on the E2 car park.
ASICS is the title sponsor for the Greater Manchester Marathon. Other sponsors and partners include Up & Running, Clif Bar, AfterShokz, Metrolink, Myers Lister Price Solicitors, TWJ Partnership Accountants, Trafford Council and Virgin Money Giving. 102 Capital FM is the Official Broadcasting Partner whilst Manchester Evening News (MEN) and Runner's World are the Official Media Partners for the race.