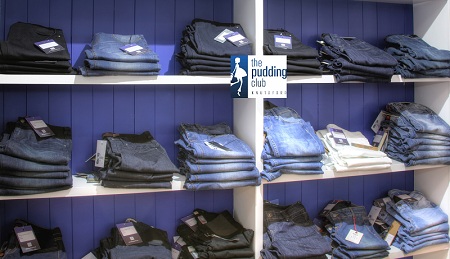 One wet Saturday afternoon in October 2010 my husband and I braved The Trafford Centre. Our Mission – Maternity jeans! I was 4 months pregnant and my normal jeans were getting tight.
First up – Dorothy Perkins. More specifically, a dusty corner at the back of the store where their "range" was shoved rather than displayed. Next was H&M. Their range was small, casual and so uninspired. We tried Next and M&S but were told Maternity Wear was all online.
Finally (and by now desperate) TopShop. I'd hoped for more choice but settled on their Baxter jeans. Unsure about sizing (I'm fairly sure TopShop don't design their clothes with accountants in their mid-thirties in mind!), I took a 12 and a 14 into the changing room. My husband wasn't allowed in so I asked the assistant whether I should go for my usual size or a size bigger. The shrug of the shoulders told me I had come to the wrong place if it was advice I was after. So it was on a rainy afternoon in Manchester that I decided pregnant women deserved better. The Pudding Club was born!
A good pair of jeans is a key component in any woman's wardrobe, as you can dress them up or down, but it's notoriously hard to find the right pair – being pregnant only makes the quest more difficult. The Pudding Club can offer you jeans advice as well as a huge array of styles, cuts and colours. We are confident we can prescribe you the perfect pair of maternity jeans. And they start at just £35.
PS I never did grow into those size 14 jeans!
The Pudding Club also sells office wear, Tiffany Rose occasion wear and casual wear.
2a Minshull Street, Knutsford, Cheshire WA16 6HG
TEL: 01565 755595
E: knutsford@thepuddingclub.co.uk Tw: @puddingclubuk