Travel toys for girls and boys
With the long school holidays just around the corner, parents everywhere are starting to think about how to keep the kids entertained for the duration. For most children and families, the highlight of the summer break will be their family holiday; be that a fortnight in the sun, a camping holiday, a long weekend away, or even a staycation. Wherever you're going, packing enough toys to keep the kids happy, whilst not taking up too much of your precious baggage allowance can be a chore. We visited Giddy Goat Toys in Didsbury to check out their favourite travel toys for this summer.
Brand new this year are Pilloboos. Pilloboos are cuddly toys with long arms which hug you back, something that can be a real comfort for little ones away from the familiarity of their own home. They can also help support little ones' necks when they nod off during long journeys. These cuddly Pilloboos are available in a range of squishy, comforting creatures, including lion, leopard, panda and monkey and cost £25 for one huggable friend to keep you company on your travels.
Keeping little ones occupied for hours in the car, or in the airport can be a constant battle. Giddy Goat Toys have a selection of hand luggage friendly games to entertain all the family, including favourites like Uno and Top Trumps, and the modern classic – Dobble, as well as the aptly titled "Are We There Yet?" card game.
Activity and Colouring Books are a travel essential and Giddy Goat Toys stock everything from colouring books for toddlers, activity books for Princess or Paw Patrol fans, right up to adult colouring books for mum, and they have an extensive selection of colouring pens and pencils to take away too. For even more compact fun, Galt Water Magic is a simple, mess-free way to keep kids occupied. The line-drawn picture boards are ready to be coloured in using the special water pen which fade as they dry ready to be used again and again and again.
For big fun in a small package, the Farm and Princess Magnets are great for travel. The tins contain two backgrounds and a great selection of farm or princess themed magnets for kids to enact imaginative scenes with. They're ideal for travel, cost just £5.99 and it's almost impossible to lose a magnet because it's stuck to the tin. These are always popular!
For little builders, you can't get any better than a Playmobil Carry Case. These are perfectly designed for travel and trips out. Each carry case contains everything you need to have a Playmobil Pirate battle, run a Playmobil Pony Club, learn lessons in the Playmobil School or arrest some bad guys with Playmobil Police. Priced at just £11.99, these Playmobil Carry Cases are a holiday must have!
Giddy Goat Toys have so much in store to keep the kids occupied over the long summer holidays. Pop in and speak to the always friendly and helpful Giddy Goat Girls for advice, or visit their new website at www.giddygoattoys.co.uk and shop online.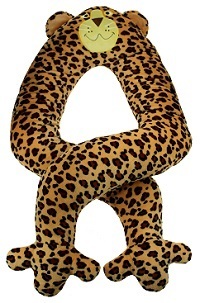 Competition Time!
To celebrate the launch of Pilloboos into the UK, Giddy Goat Toys have teamed up with the team behind these huggable soft toys and have a Leopard Pilloboo to give away
Use the widget or link below to enter our give away, simply answer the question or/and choose any other options to enter our competition.
You could use all the possible ways to enter, it will increase your chance of winning!