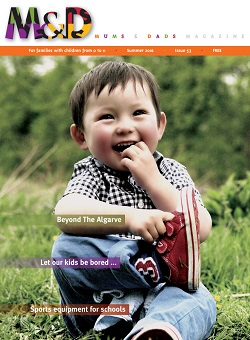 Summer edition of Mums & Dads Magazine is out now. There is a lot of information about family holidays, summer clubs and classes for children, parties and activities for kids and their parents. Whether you would like a professional advice from a psychologist or hope to win a cuddly toy competition, this is the magazine for you.
It may ease your summer planning to learn that a healthy amount of boredom is actually good for your child. It is a professional opinion based on scientific research and expressed by our columnist psychologist Sandi Mann in her article 'Let our kids be bored!'. Don't overdo it though, a bit of entertainment is also needed, and our Events Watch is at your disposal as usual together with the summer camps listings.
If you are looking for a last minute deal to travel abroad with your family check out Paul Wojnicki's article about his journey to Lisbon. Apparently it's one of the best and one of the cheapest West European destinations this year. Lovely toy-companions for your travelling child are on offer at Giddy GoatsToy shop in Didsbury and you can win one of them by entering M&D competition there. And if you are staying at home during this season of garden parties and barbeques, Nest Interior Design is happy to advise on how to entertain in style be it indoors or outdoors. We wish you good weather and care free holidays, no matter where you are planning to spend your summer!