It's long been considered the most important meal of the day, yet a survey by the British Nutrition Foundation shows that breakfast time has been put on the back burner, with 8% of primary school children missing out on this nutritional meal.
Helping to avoid morning mayhem and take the stress out of Breakfast time, Creamline Dairies has launched an online service – www.creamline.co.uk, offering a range of breakfast essentials, from milk, yoghurt and eggs, to juices, bread and jam and many other morning must-haves – order by 9pm in the evening for delivery the next morning.
Here Rob Purvis, joint MD at Creamline and father of five, tells us why every child should kick start their day with a hearty breakfast:
Breakfast boosts brain power: Studies show that people who eat breakfast are far more alert and have higher concentration levels. By choosing a breakfast that is full of whole grains, fibre and protein it'll help boost attention levels and memory.
Skipping breakfast makes you grouchy: They may deny it but missing breakfast makes your child grouchy. Maintain their good mood by keeping sugar levels balanced, with slow release energy food, porridge is perfect, for example. Sweeten things up with honey in the shape of a smiley face!
Breakfast increases your energy: Along with a good night's sleep breakfast is a great way of boosting energy levels, helping children to get through a busy day at school. Chopped bananas are great as a topper to cereals for added energy.
Breakfast makes you healthier: Those who skip breakfast are much more unlikely to make up their daily requirement for vitamins and minerals. With a glass of milk supplying at least 30 percent of your daily protein requirement and being an excellent source of calcium- don't ignore the white stuff! Not only will it help your bone development, it's also essential for nerve transmission and muscle contraction.
Breakfast sets a good example: Having three set meals a day is the best way of avoiding snacking, stopping unhealthy habits from forming and making sure your child doesn't go to school peckish. Children who eat breakfast are also more likely to participate in physical activities — a great way to help maintain a healthy weight.
Competition Time….Win a Creamline Breakfast Hamper **
Helping to celebrate Farmhouse Breakfast Week (27th January – 1st February) and spread the word on the importance of a good brekkie, Manchester based Creamline Dairies is offering one lucky reader the chance of winning a breakfast hamper.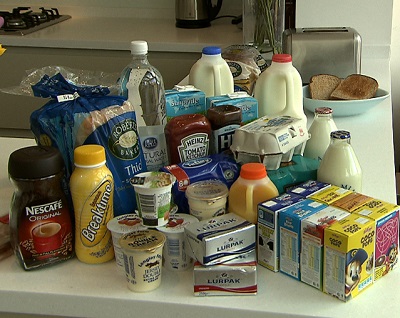 Jammed pack full of delicious breakfast goodies, including bacon, milk, yoghurts, bread, cereal and orange juice, you'll be spoilt for choice!
To enter the competition simply answer the question below: is Creamline Dairies based in:
– London
– Manchester
– Stock-on-Trent
Send your answer and details through the form below.
Closing date: Monday 10th February

(**)
– Entrants must live within the Greater Manchester within Creamline delivery area. To find out if Creamline delivers to your area, just type your postcode into Creamline's postcode checker: www.creamline.co.uk
– Prize redeemable until July 2014