Foodies Festival is the UK largest event which brings together food-lovers, celebrity chefs, local food producers. It is an event where you could try famous restaurants' signature dishes, take  delicious masterclasses from top chefs or see them in action on the chefs' stage, take part in food and drink tastings, scour festival's markets for finest local foods, relax and enjoy various entertaining activities with family and friends.
Foodies Festival strated in 2005 as a single event at an Edinburgh hotel as part of seasonal festivals. With a huge success of the event, which attracted 5,000 people, Foodies expanded to Brighton and Hampton Court, in 2009, with Oxford added in 2010. In 2011 a further 3 locations were included at Tatton Park, Bristol and Battersea Park, London, bringing the total number of annual events to 8 in 2012, including the Christmas Foodies Festival in Edinburgh. 2013 sees the introduction of Clapham Common and the launch of a new Battersea Park event Foodies Feast – a unique eating and drinking experience including London's most talked about restaurants. 2014 welcomes a partnership with English Heritage and two new Foodies Festivals at two of the most prestigious English Heritage properties: Kenwood House and Marble Hill. in 2015 celebrated its 10th anniversary with 13 festivals (10 summer and 3 winter events). To date over 2.5 million food-lovers have visited the events, making Foodies the biggest food festival in the UK. Founder Sue runs the family business from Edinburgh with her husband, four daughters and team of ten.
In 2016 Foodies planned several festivals across the UK during summer:
Brighton Hove Lawns – April 30, May 1 & 2
Bristol, The Downs – May 13, 14 & 15
London, Syon Park – May 28, 29 & 30
Birmingham, Cannon Hill Park – June 3, 4 & 5
London, Blackheath – July 8, 9 &10 (New)
Tatton Park, Cheshire – July 15, 16 & 17
Edinburgh Inverleith Park – August 5, 6 & 7
Harrogate, Ripley Castle – August 19, 20 & 21
London, Alexandra Palace – August 27, 28 & 29
Oxford South Parks – September 2, 3 & 4
2016 winter events:
London, Truman Brewery – November 18, 19 & 20
Edinburgh – November 25, 26 & 27
For details/venues/program please visit http://www.foodiesfestival.com/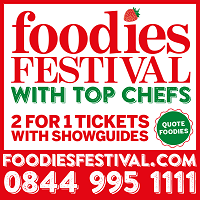 For early booking use promotional code from the image on the left. The promotion is valid until the day before each festival and can be redeemed when booking tickets on Foodies Festival website.
This year the promotion is for two tickets from £16 (remember kids under 12 go free, but over 12 require a ticket)
/ information about Foodies Festival at various cities and promo code was updated spring 2016 /