Once we start to see the first few rays of sun and we know Spring is on the way, we often think about having a bit of a clear out and refreshing our homes. We might start to wonder about having a re-vamp with brighter and lighter colours and materials so below are a few ideas we have shared on previous projects at this time of the year.
My bedroom is very cosy during winter but I would like to update it for the warmer months on a tight budget, any thoughts?
Painting a room is the quickest way to add real impact for the price of a tin of paint and possibly some new brushes. It will provide an instant transformation, giving you the feel of a new room but only take a day or a couple of evenings after work to get the work done.
If you like a calm and tranquil feel to your bedroom, try Pavilion Blue from Farrow & Ball. This is a beautiful, clean and fresh colour, team it with crisp white bedlinen and open windows. In a playroom or as a feature wall in a kitchen/family room used mainly during the day then Cook's Blue is an intense and boldly cheerful colour, perfect against white woodwork or units.
Our dining room opens out onto a small garden with a raised deck, how can we help the two spaces flow together during the summer when the doors are often open?
A great tip we give to clients who want to add an instant summery feel to the garden is outdoor rugs. The best on the market in our opinion are those from Pappelina who produce high quality hand-woven plastic rugs in a great range of colours, designs and sizes. They can be used inside and out, are UV resistant and machine washable.
In this situation, you could use two rugs in similar colourways or patterns to tie the two areas and give the feeling that the outdoor space is an extension of your home.
I'm keen to update the curtains in our family room/den and would like a lightweight fabric rather than anything too heavy as we use this room all the time in the summer as it looks out onto the garden.
Fabric is a great way to change the look and feel of a room and is worth investing in as we tend to keep our curtains/blinds for some time and they need to withstand daily use. A new range which has caught our eye this month and will be great for giving a sunny mood all year round is Levande from Scion. The fun Cycel fabric features an old fashioned push bike and comes in a zesty green colourway and Cedar shows simple leaves and trees which are bright and chirpy.
I am moving into a new house in the Spring and want to make a few instant changes to get it feeling personal, where should I start?
Start at the front door. Painting your front door is an easy and inexpensive way to give your house a new look. As this is your new home, you don't need to play it safe with a neutral colour for fear of deterring prospective buyers, be bold! Personalise your new home with a glossy lick of paint in a colour you really love, that way each time you come back after a busy day it will bring a smile to your face. Greens and blues are popular in country locations whilst bright or rich colours are increasingly popular in urban streets. For a joyful welcome every day try Yellowcake or the jaunty St Giles Blue, both Farrow & Ball.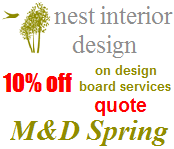 At nest interior design we offer a friendly and informal service from one room to a full-house project, our one hour initial consultation is free of charge. We would be delighted to offer M&D readers a 10% discount on design board services, please just quote M&D Spring when contacting us.
www.nestinteriordesign.co.uk
enquiries@nestinteriordesign.co.uk
0161 414 0032