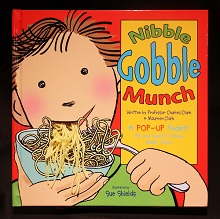 Win a copy of Nibble Gobble Munch, the new pop-up book which encourages healthy eating through fun!
Nibble Gobble Munch is a unique pop-up book with amazing paper engineering and brightly-coloured illustrations, designed to excite the imagination of young children and encourage them to enjoy real food.
Your kids will spend hours of fun, pulling tabs and turning wheels, whilst absorbing the facts about healthy food.    You will have just as much fun engaging with them in the certain knowledge that you are setting them up for a healthy future.
What more could you ask?
What is food?    A fun-filled breakdown of all the main foods.
Where is food from?    How food arrives on the plate from land and sea.
The inside story.    What happens to the food inside you.
We need food!    How food and water build muscles and brainpower.
Help yourself!  How to choose the right foods for energy and happiness.
Every page is full of easily-readable, bite-size nuggets of information and amazing pop-ups.   Even mums and dads and grandparents will be able to engage with learning lots of new and interesting facts.
To win a free copy of Nibble Gobble Munch just answer the question below and send your answer to us:
Choose which food you think is best for building strong bones and teeth:
    Pizza?
    Milk and cheese?
    Biscuits?
The book is available from Amazon and major book suppliers.
Closing date: 26th November
&nbsp