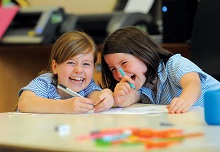 When I had my first child, nothing could have been further from my mind than her A levels. I was more concerned with my learning 'on the job' how to take proper care of our very precious, but completely helpless infant! Three more children later, and after countless conversations about junior and senior schools, GCSE and A level choices, university courses and – in some cases -even job applications, I have come to realize how quickly time flies!
We all read stories daily about changes to the way children are assessed, the subjects they should study, their chances of success in university applications, and so on. Some of these reports are based on fact, but many others are unnecessarily alarmist, if not downright wrong; they all can be relied upon to attract attention. From conversations I have had with many parents, I know issues like these can cause them great anxiety as they strive to do their best for their children. The good news is that parents do not need to become self-taught experts on every aspect of current and future education policy and provision; they simply need to find teachers whose experience and advice they can trust. As professionals, it is part of our job to keep abreast of the changing educational landscape, and to help parents and children navigate through it in ways which are tailored to each child's own abilities and aspirations.
So, what lies ahead? This coming September, GCSE courses in England are going to change. Students will embark on "linear" courses for examination in summer 2014. No more "modules", and resits of units will not be permitted in most subjects. New, more rigorous GCSE qualifications will also be introduced in subjects that the government considers too easy: Geography from September 2012, and History and English from September 2013. The (even more demanding) iGCSE qualifications continue to grow in popularity though, confusingly, only some will be counted in the forthcoming league tables. Ofqual's consultation about how to make A levels more rigorous and discriminating at the top end of the ability range has also just begun. The one thing we can be certain of in education, as in many other aspects of life, is that things will continue to change, and that the pace of change will only increase.
Parents want many things for their children, but in my experience 'happiness' and 'fulfillment' are top of their lists. Recent research by the Office for National Statistics suggests those who are better educated are more likely to say they are satisfied with their lives and to feel that what they do is worthwhile. So their educational choices, and the attainment they bring, can make a real difference to our children's future happiness. This should not make parents feel even more anxious. It's the best reason there is to choose a junior school and a senior school whose guidance they can really trust.