The most common scenario we discuss with clients is that almost everyone wants just a little more space in their house for something: a new arrival, playroom, den, office, storage, spare room, the list goes on.
Often, Spring prompts people to embark on a project and, if budget allows, this niggling thought will start to take shape as an extension or conversion plan and here at nest we can fully support this being a brilliant idea.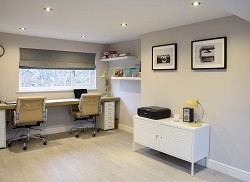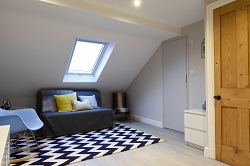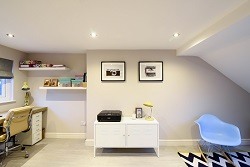 What we would say is, before deciding on your final plan, think cubic in terms of m
2
. Give your house a good look up and down and consider the often spacious and under-utilised spaces of your loft and cellar, if you are lucky enough to have both. This way, you don't eat into your garden space but can still add both an extra room(s) and value to your home. Another bonus is that often the bulk of the inevitably messy work can be contained and contractor access can often be via the roof or cellar light-well – avoiding the frustration of your front door being constantly open for a good couple of months!
Cellars naturally lend themselves to creating cosy and inviting rooms, think a spare bedroom, teenage den or playroom. Lofts offer great opportunities for bright and airy home offices, see images for our very own sunny nest office, or an indulgent sanctuary at the top of the house in the form of a master bedroom/en-suite. Often, particularly in period houses where loft spaces are divided into front and rear, there is the opportunity to retain a part of the loft for much-needed storage.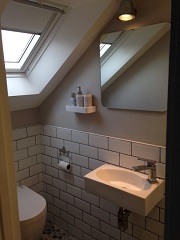 If you are creating an extra bedroom in either area then it is worth adding an extra WC/shower room, however compact, if space allows. This will ensure that your ratio of bedrooms to bathrooms still works well and will further increase re-sale value.
Always do your research before employing a building firm to work with, take up testimonials, visit previous projects and ensure both building regulations and planning permission are in hand, where required. An architect is invaluable, often costs less than you would imagine and will offer ideas in terms of layout, space planning, ensuring natural light and linking to the original part of the house which will make the difference between a standard space and a brilliantly planned new space.
Nest have worked on a number of similar projects and can both recommend all relevant contractors and work with you to ensure your new space is tailored to your requirements. Just get in touch for an initial chat and quote M&D Spring for 10% off initial consultancy fees.