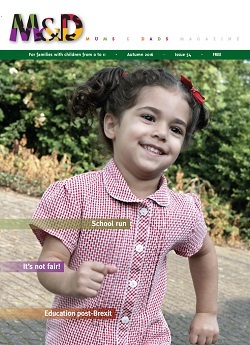 Finally, Autumn is back! Typically associated with darker, shorter days, a return to routine and falling temperatures (although let's face it, they didn't have far to go), this is not everyone's favourite season. But we here at M&D think there are plenty of reasons to love Autumn.
Many of them can be found in our events guide which will get you out and about among those colourful falling leaves (or will keep you indoors away from them!)
Another thing which makes Autumn special is the sense of renewal, sparked by the beginning of the new academic year. To find out what local schools are up to, check out 'school run' and 'education' section in the new edition of the magazine which you'll find at the usual distribution points. (Feel free to contact us if you are not sure which one is the closest to you.)
Of course, this year we will also start seeing some of the effects of the much-discussed, much-analysed Brexit. So what about post-Brexit education? We don't have the answers, but some thoughts can be found here.
So get browsing, get reading, and get appreciative of this under-rated season, which brings us cosy jumpers, beautiful scenery and pumpkins!