Christmas recipes from Jane Baxter, Riverford Farm
Sprout haters may well be converted by this seasonal dish that truly makes the most of sprouts. It wouldn't look out of place alongside chicken or sausages, or even with some roast turkey on your Christmas dinner table.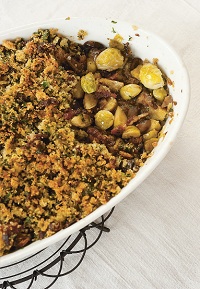 Serves 4–6
750g sprouts
3 tablespoons duck fat or butter
1 teaspoon castor sugar
sea salt and freshly ground black pepper
100g smoked streaky bacon, chopped
1 garlic clove, crushed
1 tbsp chopped sage leaves
1 teaspoon thyme leaves
150g soft breadcrumbs
finely grated zest of 1 orange
1 tbsp chopped parsley
100g peeled, vacuum-packed chestnuts, roughly chopped
200ml chicken stock
 
Preheat the oven to 160°C/Gas Mark 3. Peel and trim the sprouts and cut into quarters lengthways. Toss in an ovenproof dish with 1 tablespoon of the duck fat and the sugar and season well. Bake in the oven for about 15 minutes, until just tender.
While the sprouts are cooking, brown the bacon in a frying pan in the remaining duck fat, then add the garlic, sage and thyme. Cook for 1 more minute, remove from the heat and stir through the breadcrumbs, orange zest and parsley. Season.
Stir the chestnuts into the sprouts. Pour over the chicken stock. Top with the stuffing mixture and return to the oven for 10 minutes, or until golden.