A New School will be open in Didsbury next year
Being the parent of a pre-school aged child isn't easy. Apart from the usual traumas of potty training and temper tantrums, there's the looming anxiety and uncertainty about getting them into a good, local school.
Most schools in South Manchester are massively oversubscribed, with Didsbury CofE (The Church of England) receiving 180 applications for just 30 places last year. The answer? Open more schools. Local mum, Jane Arschavir spoke to the Reverend Dr Nick Bundock of St James and Emmanuel Didsbury, who, along with his team is doing just that.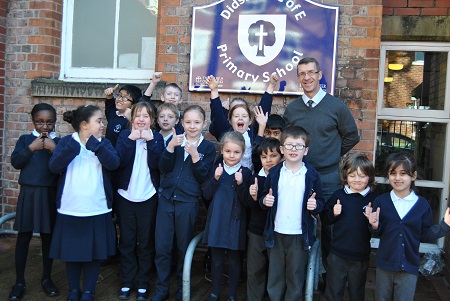 "The idea first came about after the number of appeals for reception places at Didsbury CofE significantly increased," said Nick, "it was clear that there were a large number of parents who wanted a CofE education for their child." Nick went on to explain that when the opportunity arose to bid to create a brand new Free School with Didsbury CofE as its sister school, it seemed the most logical and exciting solution to the school place problem in Didsbury.
Nick and his team, which also consists of Ben Edson, Associate Rector at St James and Emmanuel, Matt Whitehead, Headmaster of Didsbury CofE and Paul Good, Chair of Governors at Didsbury CofE, worked hard to put together a creative bid for the new school, based on the good work of the existing and popular 400 year old Didsbury CofE.
"When we submitted the bid in September we were a little overwhelmed by the positivity from the local community. Our bid probably generated more interest than any other in the country, with over 300 local people registering their support for the school," Nick said proudly, "in fact there were more registrations of interest for places in the school pre-bid than there were places in reception".
Though the actual location of the school hasn't as yet been decided by the Department of Education, Nick was keen to stress that it would be within the boundaries of Didsbury, and would be a school for local families which he hoped like its sister school, Didsbury CofE, would be an integral part of the community.
Set to open its doors in September 2015, Didsbury CE Free School will be a two-form entry, creating 60 new school places a year. Nick emphasised that although the bid was successful, now the hard work really begins. They are busy pulling together a project team, which will include a community liaison officer who will be available to support parents interested in applying for places. The application process hasn't been finalised yet, but it's likely the Local Authority will co-ordinate admissions.
Although the school is affiliated to and established by St James and Emmanuel and the Diocese of Manchester, Nick explained that "it'll be a real community school, open to children of all faiths or of none. Only if the school is oversubscribed will we apply a faith criterion, but even this will only apply to a maximum of 50% of the places available with the other 50% going on distance alone".
Nick is especially enthusiastic about the innovative Creative Studio, which will help children link their learning and development with skills they'll need later on in employment. The school will work closely and creatively with local businesses and organisations who will share real-world skills with the children. The ethos of the school also places a great deal of emphasis on nurturing each child and their individual gifts, be they academic, sporting or musical.
So what's next? "The next few months are likely to be a whirlwind of work," said Nick, "there's lots to organise and we expect news from and about the school to come thick and fast over the coming months. Parents should follow us on Twitter and Facebook for updates as and when we have them, and once the Community Liaison Officer is in post, they can contact them directly for information and support".
Nick explained that there would be another community consultation before the school opens "it's an excellent opportunity for families and the local community to get involved and help shape our vision for the new school and its place in the wider community of Didsbury".
"We want a school that's the beating heart of the community, looking outwards to industry, employment and the real world. We can definitely achieve this within a supportive, diverse and creative place like Didsbury. Most importantly, we believe children should be educated locally and grow to be assets to their community and beyond," says Nick. "Our vision statement is 'belonging, believing, becoming' so please watch this space!"