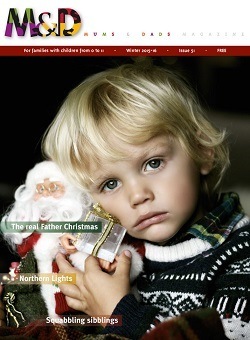 It's that time of year again – the time of festivities, fairy lights and family fun! So with M&D as your guide, prepare to seize the season. Before you can start to really enjoy yourself and entertain you family, read Dr Sandi's column on how to deal with sibling strife (pg.10) to ensure a peaceful time for everyone involved. Once you've sorted that out, why not browse our events guide (pg.14-15) for some ideas on how to occupy the whole lot from grandparents to babies.
A new year is a great time to seek out new challenges and adventures, so why not explore some elegant balletic options with our feature on South Manchester Dance School (pg.9). And if you're still debating whether or not to tell your cherished offspring where those presents under the tree really come from, one of our articles (pg.12) may give you some food for thought.
As always, keep checking our website and Twitter @MumsDadsPublish for up to date information to ensure that you don't miss a beat.